die Dokumentation der
Duo fatale on India-Tour 2018
ist fertig mit
Videodokus:
Duo fatale - docu-demo India-Tour 2018
playing "Roulette-Circles",
the World-Jazz-Project, including collaborations
Prinzessin Schnuufi lernt Akkordeon
Band 2,
2017
Akkordeon-Lieder-Schule mit
Sticker-Bildern & play alongs
für Anfänger

von Ingeborg Poffet
Exclusiv für ihre Schülerinnen und Schüler
50 Seiten, Spiralbindung
Verlag: POFFETmusic.ch
neu übernimmt
Akkordeon.Basel.ch
auch den Verkauf der
Aerophone
AE-10 (weiss) &
AE-10G (anthrazit)
von Roland
nächster
Tag der offenen Tür
am Mittwoch 21. Juni 2017
(Tag der Musik) 14 - 19 h
inkl. Demo Roland V-Accordion
von Ingeborg Poffet
ebenfallserhältlich bei AkkordeonBasel.ch
die Dokumentation der
Duo fatale on India-Tour 2016
ist fertig
NEUE NOTEN
Prinzessin Schnuufi lernt Akkordeon Band 1
eine Akkordeon-Bilderbuch-Schule
für Vorschulkinder resp. Schulstarter
von Ingeborg Poffet
exklusiv für ihre SchülerInnen
veröffentlicht & erhältlich
@ Verlag: POFFETmusic.ch
Die neue Schule ist da,
pünktlich zum 2. Semesterstart 2016!
BASICS for Accordion, Band 1
von Ingeborg Poffet
Exclusiv für Schülerinnen und Schüler
von Ingeborg Poffet
100 Seiten, Spiralbindung,
zur Vermittlung guter
Basis-Akkordeon-Technik, Informationen
und vielen kleinen Stücken (Eigenkompositionen)
wie auch Bearbeitungen von Songs & Fremdliteratur
zum einfachen Mitspielen.
Dienstag 21. Juni 2016 (Tag der Musik) 12 - 19 h
Tag der offenen Tür flyer
es war ein buntes Treiben, und auch die
Allerkleinsten hatten schon ihren Spass
vielen Dank fürs Vorbeischauen,
bis zum nächsten Mal!
giving birth to sound - women in creative music
an anthology of female musicians, incl. text
"fighting for - music" by Ingeborg Poffet
buddy's knife jazz edition/Renate Da Rin, cologne
Renate Da Rin and William Parker have invited 48 creative women sound artists to share their experiences in the process of creating music and living as an artist. These women come from North and South America, Europe, Africa and Asia.
"giving birth to sound" is about Her-story as told by some of the most brilliant and creative women musicians in the world. Individual thinkers and movers who have been brave enough to devote their lives to the making of music the way they hear it. They were not afraid to sing and speak in the name of sound, showing us that they are a family of unique individuals, separate but united.
Read their words and listen to their music whenever you can – it will take you even closer to the great mystery called life.
Foreword by Amina Claudine Myers
Among the great musicians we find Jay Clayton, Marilyn Crispell, Claudine François, Terry Jenoure, Ingrid Laubrock, Marilyn Mazur, Nicole Mitchell, Maggie Nicols, Angelika Niescier, Lisa Sokolov, Ijeoma Chinue Thomas, Fay Victor …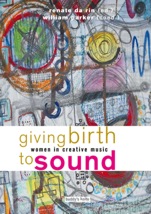 book-vernissage 12.07.2015 @
vision festival, New York
available now @
www.buddysknife.de
www.amazon.de
www.spdbooks.org
(USD)
double-CD: the 25-years-compilation 2014
analog together with
XOPF-Records 049 2014
- a surrealistic mix of delusion & reality
online available in any shop like amazon or rippletunes or qobus or itunes ...
CD Fatalos Remix - CD-Info, Duo fatale, XOPF-Records 048
forever cheeky, lively sound, unvarnished and direct, yet delicate
online available in any shop like amazon or itunes etc.
7-track-demo on soundcloud